Teen Leadership Rockland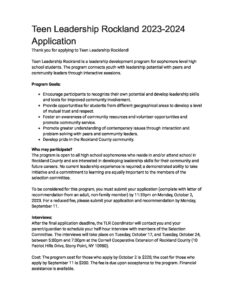 Teen Leadership Rockland is a leadership development program for sophomore-level high school students. The program connects students with leadership potential with peers and community leaders through interactive seminars.
Teen Leadership Rockland is a condensed version of the full Leadership Rockland program. This program is a joint venture of Leadership Rockland and Cornell Cooperative Extension.
Cornell Cooperative administers the program through its 4-H Youth Development Program. The Leadership Rockland Board of Directors works in conjunction with CCE, and the vast majority of presenters and coordinators for the individual program days come from the Leadership Rockland program.
This program is open to all Rockland County sophomore-level high school students who are interested in developing leadership skills to make contributions to their schools and communities while preparing for college and future careers. No current leadership experience is required; a demonstrated ability to take initiative and a commitment to learning are equally important to the members of the Selection Committee.
Click here to download the 2023-24 brochure.
You can also check for information as well as apply for the program at http://rocklandcce.org/youth/teen-leadership-rockland or click the apply now button.