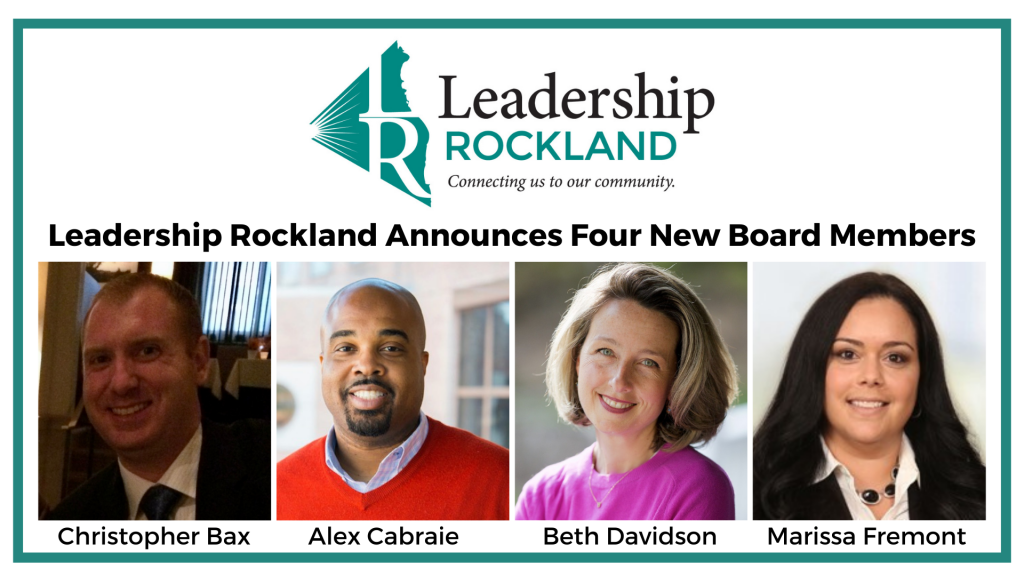 Rockland, N.Y. (March 19, 2021) – Leadership Rockland is pleased to announce the appointment of four new members to the Board of Directors.
These new board members include Christopher Bax, Alex Cabraie, Beth Davidson, and Marissa Fremont.
Vivian England, Chair of Leadership Rockland, shared, "This is an exciting time for Leadership Rockland, we are recruiting for the Class of 2022, and now we have four new and dynamic board members who bring a wealth of intellectual capital and community commitment to our Board."
Bax, a Sergeant with the Clarkstown Police Department and 2017 graduate of Leadership Rockland, expressed that he hopes "to continue contributing to the program's success in this new role."
Cabraie, a well-known Entrepreneur in the County who graduated from Leadership Rockland in 2018, shared, "I know first-hand of the impact that Leadership Rockland has on the County. I look forward to working with the great minds on the Board to help develop the future leaders of Rockland County."
Davidson, a Nyack Board of Education Trustee and Freelance Writer/Political Consultant, commented, "Rockland may be New York's smallest County, but we are mighty—and full of talent, entrepreneurship, and philanthropic spirit. I'm so excited to be part of an intentional effort to build leadership capacity and promote shared power and equity to the benefit of all our diverse communities!"
Fremont, a Healthcare Advisory Services Director for KPMG LLP, added, "It is a privilege and an honor to join the Leadership Rockland Board, an organization that seeks to advance leaders in furthering themselves and the County of Rockland. I consider myself fortunate to be working alongside a diverse group of proven leaders and welcome opportunities to further advance the program."
Leadership Rockland is a program that engages and challenges participants to examine issues and seek solutions in Rockland County. The program is unique in the degree of exposure it offers to a wide breadth of topics that cover much of what makes Rockland the distinctive County that it is.
To learn more and apply for the upcoming Leadership Rockland program, visit www.applyforleadershiprockland.org.