Reprinted from New City Neighbors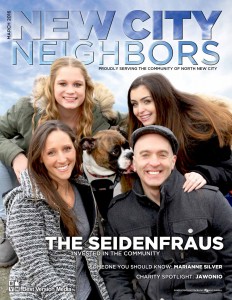 Given a Second Chance
By Laura Ustanovska
Photos by Marc Russell
Michael Seidenfrau is one of those people who has distinct "before" and "after" parts to his life – intersected directly by a serious and life-changing accident. Michael calls it a "rebirth." He says, "Not only did I come back faster and stronger physically, I became a better person," and, to that end, one who is truly generous to our community.
In the "before" section of Michael's story, he was born and raised in New City, and then moved away for college and to begin his career. In 1998, Michael made a career move, joining his father at Prudential Securities. "Based on my background, he thought I would be a good fit for his wealth management practice," explains Michael, "and thought I could bring a holistic, consultative approach." After his father retired, Michael converted the entire practice to a consultative, fee-based approach. He soon realized he needed to grow the business, and, in 2008, moved over to Morgan Stanley as first vice president of investments, specializing in investment planning, retirement planning and wealth management.
Around the same time, Michael was invited to a meeting of the Congers-Valley Cottage Rotary Club, which he was inducted into several weeks later. Michael became very involved in the club, serving on multiple committees, including charitable donations, scholarships, the Italian Festival and the dictionary project. Michael even served as the club's president for a year. Since his office is in Pearl River, he moved over to the Pearl River club and is currently vice-president elect of that club.
Michael graduated from Leadership Rockland in 2011. He says it was both an eye-opening and life-changing experience. Michael left the program wanting to make a difference by applying what he had learned to making the community a better place.
It was on the cusp of this awakening, on August 13, 2011, to be precise, that Michael was involved in a very serious bicycle accident, initiating part two of his life story. "I broke many bones on the right side of my face (which required surgery) broke my elbow (which required surgery) and suffered a massive concussion and a brain bleed. At that point, I was at a few crossroads in life."
Describing himself as the type of person who gets back up when knocked down, Michael knew he was lucky to be alive and wanted to give more back to the community. After recovering, he became an active member of Leadership Rockland, serving on its board of directors to this day. Furthermore, Michael is the chairman of the selection committee, which chooses each class from all the applicants. Since 2012, Michael has served on the board of directors for Meals on Wheels and is very involved with some of the organization's fundraising activities and serves on the governance committee. In addition to the boards he serves on, Michael has been involved in some small and creative fundraisers for hospice and individuals in need.
After the accident, Michael also picked up a new hobby: Racing. "The first exclamation point in my 'comeback' was running the Rockland Road Runners' 5 Mile Turkey Trot on Thanksgiving morning (just three-and-a-half months after the accident). I ran a respectable 42.30 in my first race without much training, and was then talked into doing the Hook Half Marathon in April. I ran that race in a very respectable 1 hour, 50 minutes and 48 seconds, and have literally been hooked on running ever since, completing three marathons from November of 2014 through the New York City Marathon in 2015."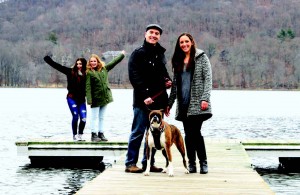 Michael began dating fellow runner Carissa Coslit in 2012. They met through Leadership Rockland, where they were classmates. After proposing on Christmas Eve 2014, Michael and Carissa have set of wedding date of June 4, 2016.
As members of the Rockland Road Runners, Michael and Carissa serve as race co-directors for the Women's Distance Festival, which benefits the Center for Safety & Change (formerly the Rockland Family Shelter). "I have served as the director for three years (going into the fourth year), and I am proud to say that the race has shattered attendance records for each of the last two years. In addition, I served as an interim race director for the Bill Fortune Memorial 10K Run & 5K Run/Walk, which benefits Meals on Wheels." The Bill Fortune Memorial has found a permanent director, so Michael has "rolled off the race."
Michael is a fan of the Yankees, Jets, Knicks and Islanders. When not working, volunteering or racing, he enjoys spending time with his daughters, Daryn (14) and Jordyn (13).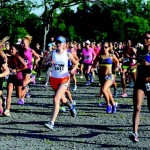 Daryn's favorite subject is science, and she achieved high honor roll in middle school. Dad says, "She used to love playing softball and was a very good catcher, but she 'grew out of it' and stopped playing a couple of years ago." Daryn previously played soccer and recently ran track but, after suffering an injury, is undecided about returning.
Like her sister, Jordyn played soccer and softball in the past. Michael even coached her softball team for a few years. Both girls love art, and Jordyn is an accomplished artist, having been featured at Artful Schemes in New City. She is very good with young kids and animals, and has volunteered at a local pet store.
Michael moved back to New City in 2004. "There's something cool about living in the community I grew up in. New City/ Clarkstown is a great and safe place to bring up kids. The school system is fantastic."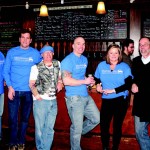 Michael concludes with a message to you, his neighbors: "There is nothing more gratifying than helping people in need – especially those whom you may never meet. Volunteering for a non-profit or serving on a board of directors of one is a great way to give back to the community."