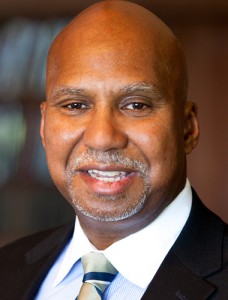 Earl Miller, (Leadership Rockland Class of 2007) Executive Director of Community Relations for Nyack College, was inducted into the Rockland County Civil/Human Rights Hall of Fame on April 8, 2015.
Born and raised in Atlanta, GA, a hub of the Civil Rights Movement, Miller has served residents of Rockland County through his participation in a number of County organizations. He now plays the role of coordinator of the program's multicultural community day, as well as serving on the organization's Board of Directors. A former Nyack Rotary president (2012-2013), he has been a board member of several organizations including Rockland County Big Brothers Big Sisters, the Nyack Center, the African American Historical Society of Rockland, and Head Start of Rockland. He is also Board of Directors Vice President for the New York State YMCA Foundation.
As a Nyack Rotary member, he has helped deliver food to recipients of Meals On Wheels, has visited classrooms at a local elementary school under the literacy reading program, and has participated in Junior Achievement programs and food drives.
Several organizations in the county have saluted Miller for his work, among them the Nyack Branch of the NAACP in 2010. He received the Nyack College Commitment to Mission award for a staff member in 2013.
Earl Miller has been a featured speaker at numerous County events including "Civil Rights: The Last 100 Years," at SUNY Rockland Community College; Martin Luther King Day guest speaker at Suffern United Methodist Church in Suffern and Pilgrim Baptist Church in Nyack, and the Rockland Holocaust Museum and Study Center's Kristallnacht Commemoration.